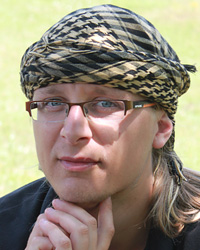 Victor Klinkenberg studied archaeology at Leiden University, specializing in computer applications in archaeology and spatial analysis. He majored on the Prehistory of North Western Europe, but also developed a keen interest in Near Eastern and Mediterranean Archaeology. He has participated in various field projects in Turkey, Iraq and Cyprus.
His PhD research focused on the investigation of the structure of activities within the fortress (Dunnu) of Sabi Abyad. This was done through the analysis of finds and their 3D spatial distribution within the complex using 3D GIS as a methodology. This has provided insights into what activities were undertaken where in the Dunnu, demonstrating the role the fortress played in the region and in the Assyrian empire.
Victor was Project Manager and Postdoctoral Researcher for SETinSTONE from 2015-2019. In the project he focused on the broader landscape in which the large scale Mycenaean building programs took place.